I have published one of the cartoons that the 12 brave men and women who got shot to death today by 3 crazy Muslim bastards have published in the past.

We must not let them silence us.

Keep poking fun at all religions and all things that amuse you.

It is your right to do so.

I have so far resisted publishing these hilarious cartoons but have now entered the fray and expect a bit of a backlash.

These cartoons rightly parody the Muslim religion. They depict the prophet Mohamed and the Muslim religion for what it is: violent, nasty, dictatorial, murderous, cruel and unworkable in the modern world.

The mere fact that the Muslim world raises itself up with death treats and carries out murders and bombings against those who dare to criticise the religion, show the "faith" for what it really is.

"Moderate Muslims", if they truly exist, should counter all these death threats and extreme views against people's democratic right to free speech by publicly defending rights to free speech instead of joining the Muslim bandwagon and proclaiming some new jihad against the Western world.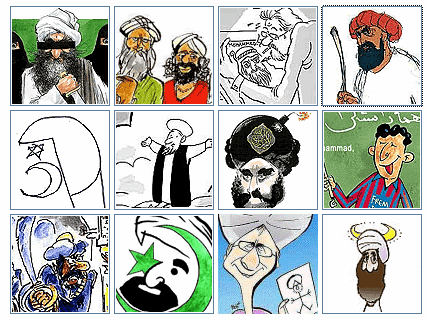 These cartoons are moderate in their message compared to the message of Jihad
pushed daily by Muslim leaders.



I wait with baited breath but don't expect condemnation of this extremism by the Muslim world.


Related Political Animal reading

Fully aware of Muslims: Jihad and Understanding
Having a multiple Muslim
Dutch Politicians Movie -Fitna (Full version)
Reaction to Muslim cartoons defended by some




c Political Animal 2008, 2015